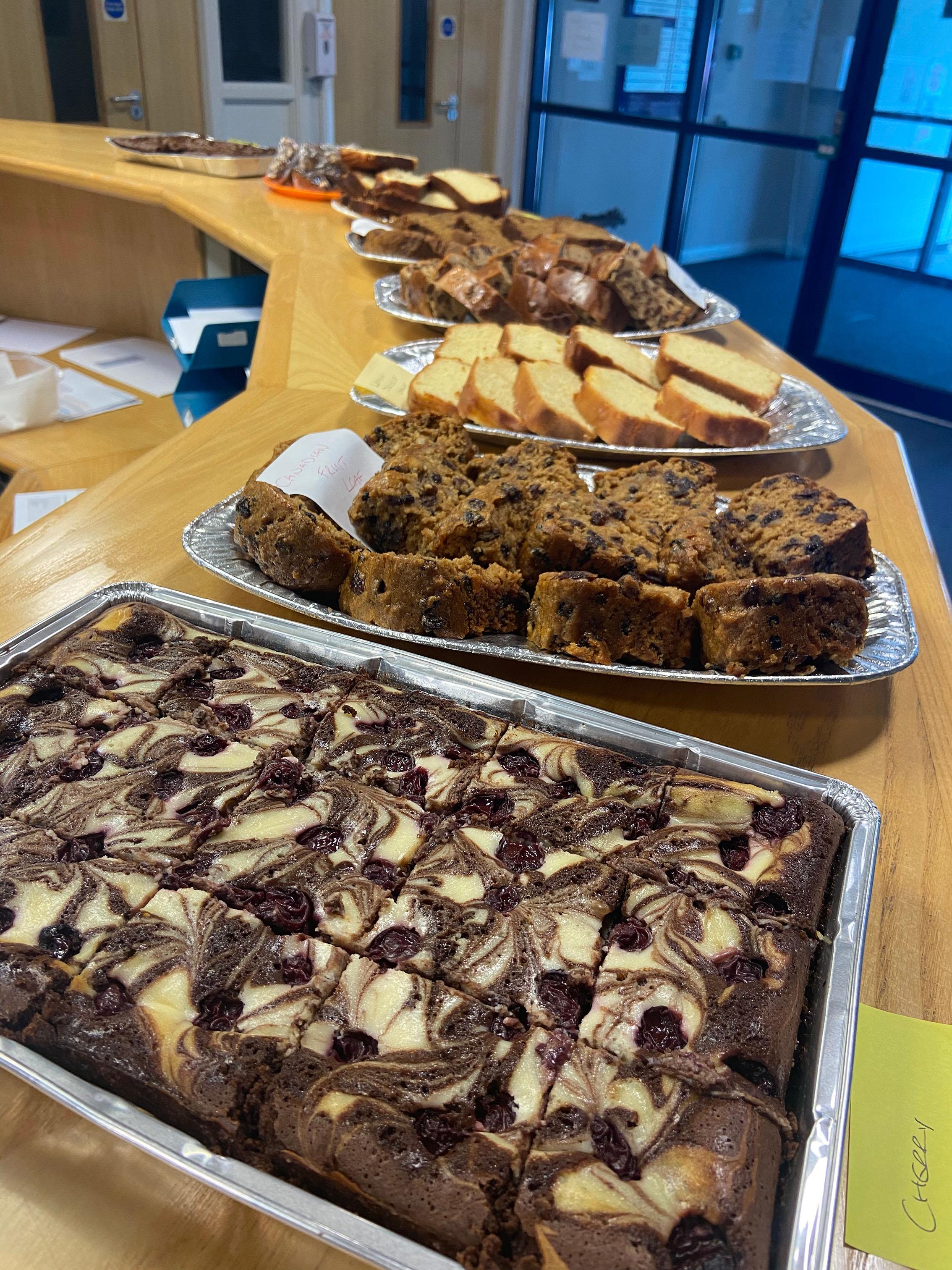 If you've read any of our other news articles, you'll be aware by now that we love a bit of fun, fundraising and cake! 
As is our usual tradition, each December we parade our Christmas Jumpers and have some fun. In 2021, Christmas Jumper Day fell on Friday, 10th – making it a great start to the weekend! Having had an outstanding year fundraising for one of our favorite charities – Trinity Hospice & Palliative Care, we decided to see if we could make a difference to an individual person. 
One of our sales team members, Dave, has worked with an individual for over 10 years, and when Dave joined our team he also brought some of his previous contacts with him, which included a young man named Reagan. 
In 2000, Reagan was an aspiring 17yr old student, whose life took a dramatic turn when he was sadly the victim of a hit-and-run accident. The accident left him paralyzed and unable to work. Determined to create a life for himself and to support his family, Reagan borrowed a laptop and began to study and expand his knowledge of online data.  
Reagan is the man of the house and supports his elderly mother through his online work, he is the first to offer his support to those in need, helping out at a local respite center at Christmas and giving gifts and donations to those less fortunate than himself. 
Through Dave it came to our attention that Reagan was in dire need of a new wheelchair, with his current one being totally unsuitable for his needs and beyond repair – and so our mission began! 
With secret communication with Reagan's family, we set about raising funds to purchase a new wheelchair, one that would not only give him a new lease of life but that would also match his physical needs. And so the baking began, which culminated in one of our office rooms being filled to the brim with a delicious array of home-baked goodies. With posters around the building having been put up for a week beforehand we had a queue knocking at the door to come in.  
In total we raised a massive £450 - never under estimate the power of cake! 
A Skype call later and Reagan was very surprised and blown away with what we had achieved. I think you'll agree that it was a very worthwhile cause. See Reagan's response here: https://youtu.be/AP8QNWPnLd8
Good morning, Partner Plus Media family, 
It is with my great pleasure to express how happy I am with what you guys have done; you've touched my life in a way that it seems I'm only dreaming. 
I woke up one day without any idea that you're working on it from the past few days. The night you guys informed me about it, I know that God has made you an instrument to make my life easier. 
It was June of year 2000, when I had my accident, and put in paralysis. During that time, I am a working student and after work my manager in the fast food told me to go home and dress up because they will introduce me as one of their scholars, then on the way home the accident happens. It was a hit and run, I was only 17 yrs. old and diagnosed with cervical 4-5 spinal cord injury, I was in a coma for almost 2 months. More than half of my life was taken away from me. I wasn't able to continue studying because I'm bed ridden for more than 3 years. 
Eventually I was able to expand my knowledge with the use of internet until I met David Stirzaker, a wise man who once told me communication is the key to success. He supported and accepted me as an employee despite my in capabilities. Please allow me to say "he's one of my favorite people". Then my life became more meaningful when I worked at Partner Plus Media in my own little way I was able to extend the blessings to my fellow persons with disabilities. Thank you for giving me an opportunity, for allowing me to see my purpose, for allowing me to take care of my 68 yrs. old mom and most importantly sustaining my medication and personal needs.  
Let me share with you some pictures - A picture of my old wheelchair which I have used since 2009. And a recent picture and videos of me taken last Sunday January 30, 2022. 
I was teary eyed when I'm driving about 100 meters by my own, for more than two decades I felt the freedom to move around by myself. 
I promise to take care of this biggest gift ever. I do pray for us to be blessed, especially each and every one of you. I'm not good at words but one thing for sure, my family would like to extend their gratitude to all of you, from my family to yours... Thank you Partner Plus Media. 
Thanks be to God!!! 
Regards,
Reagan