When Hospice Conference Season Calls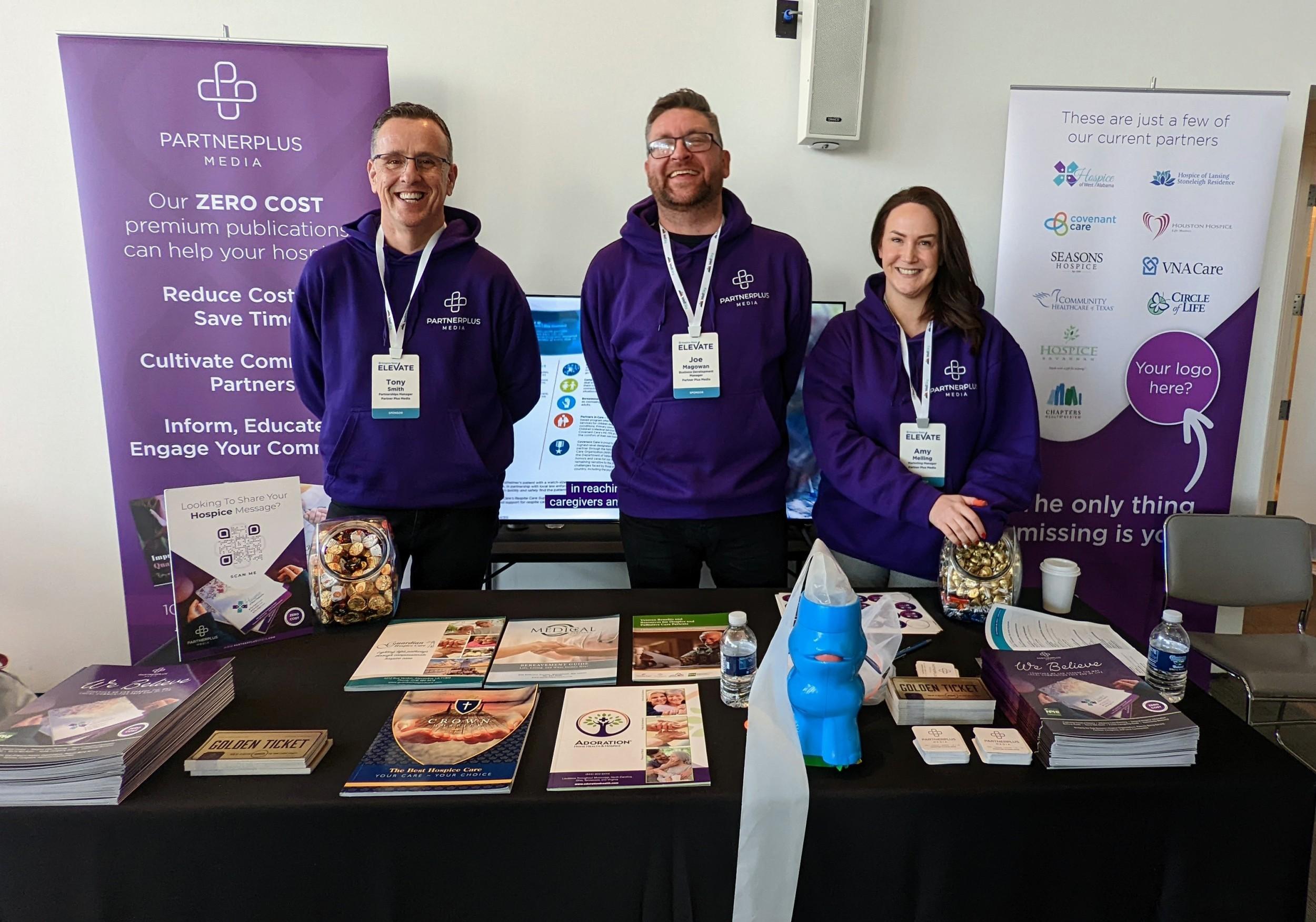 When hospice conference season calls, you better believe PPM will answer. 
Written by Amy Melling, Marketing Manager.
On Friday, October 21, 2022, my colleagues Tony Smith, Joe Magowan and I took to the sky for two incredible conferences in St. Louis and Chicago.  
The day started promptly with a 3am pickup taking us to Manchester Airport. Dressed in our matching purple Partner Plus Media hooded jumpers and paired with tired eyes, we were surprisingly revved up and ready to take on the 9-hour flight to Chicago for an adventure that awaited us on the other side of the pond. 
Apart from a slight delay between Manchester and Dublin, we soared through the sky comfortably and arrived in Chicago at 14:30 local time. However, once we were through baggage collection that was when the real quest began; with Captain Tony at the helm, we set off on a 5-hour road trip to St. Louis fully stacked with snacks and an American soundtrack to soothe the soul... shout out to any Elvis fans amongst us!  
Even though jetlag mixed with a splash of sleep deprivation had set in it wasn't going to hold us back, we hit the streets of St. Louis once the sun appeared in search of the iconic America's Center Convention Complex – an impressive venue for this year's National Association for Home Care & Hospice (NAHC) Conference and Expo.  
Designed to celebrate connections and explore ideas around community, the NAHC Connection 4.0 Link Up Conference helps attendees reach their stakeholders in authentic and meaningful ways, while introducing new and innovative ideas to hospice and home care services. We were in the right place to demonstrate how our publications propel hospice directly into a wider yet laser-targeted audience. We work tirelessly to ensure our books stand out in a sea of tri-folds and this was clear to see when people stopped by our booth and showed their appreciation for the quality and depths of our prints.   
This one-stop shop for all things hospice introduced us to an audience of over 2,000 visitors across a three-day period, from Sunday 23 to Tuesday 25, October. We were in great company too, with organizations such as HospiceMD, Inovalon, KanTime, Reverence, Medalogix, WellSky and Skyscrape also exhibiting at the event.   
Our booth was perfectly located for us to showcase our incredible service in person, and explain why our books are so beneficial to the hospice community. We were able to speak with both the heads of hospice organizations and also with team members working directly with service users. Hearing about their need for better communication, engaging resources and alternative budgeting meant we were having the right conversations. Patients and families are still unaware of the care available to them. Approximately 12 to 15% of patients survive six months or longer in hospice, whereas 50% die within three weeks* – this is a shocking statistic when care can be available much sooner. For this to improve, more education is needed outside of the hospice community – Partner Plus Media can provide the resources to share vital information.    
Many visitors to the exhibit stopped by our booth to say "Hi", peruse our publications and speak to us about our zero-cost program, but I think it was our flappy-eared mascot, Elefun, that attracted the most attention. Having something to interact with at our booth definitely set us aside from others at the conference, it was the perfect ice-breaker to warm up the crowd before we got down to business. It was also great to see people having fun and asking, "Why is there an elephant at your booth?".  
Having enjoyed three days in St. Louis, we were fully into the swing of things and even talking about Partner Plus Media in our sleep! It was time to take on the next part of our tour and show Chicago what we had to offer. Fast forward 24 hours and we were in the "Windy City" setting up our stand at Hospice News' ELEVATE Conference; an intimate gathering of industry leaders discussing the future of hospice.   
This event provided us the opportunity to mix with executives, hospice professionals from hospice providers, health systems and home health agencies as well as clinicians, hospice management, consultants, and finance professionals.   
While Tony and Joe held down the fort at our booth, I was fortunate enough to slip into the theater and listen to some of the incredible talks. First up was Dexter Braff, President of The Braff Group, sharing his experience and knowledge on 'The Investment Landscape for Hospice'. Dexter's insight into statistics provided me with a lot to consider in terms of financial investment and where hospice providers will truly find value in what we provide. Due to the nature of our business, we offer a free service to hospice meaning their budget for marketing can be redirected to other areas in their organization. With many of us feeling the pinch financially, Partner Plus Media offers the ideal solution.  
The next group to take the stage included Carla Davis, Senior Vice President of Hospice Operations LHC Group, Balu Natarajan, M.D. Chief Medical Officer for Hospice AccentCare and Joel Wherley, Chief Operating Officer and Executive Vice President at VITAS Healthcare. Their discussion centered around C-Suite Perspectives on the Future of Hospice Care and what challenges the community foresee in 2023. One of the biggest points I took away from the session was communication and the lack of it. The entire community wants to scream from the rooftop the benefits of hospice and how it can improve the lives of patients, families and loved ones, however hospice organizations are still struggling to find the most effective way to highlight their services. Had it been appropriate, and I was wearing my superhero cape, I would have stormed the stage chanting, "PPM will share your message and we'll do it for FREE!". Instead, the team and I were poised and positioned with copies of our books to tell everyone what we do as they left the theater.  
As the day drew to an end, the team and I felt we had achieved what we set out to do. We made significant connections, shared our service and left the conference with a newfound confidence in hospice care knowledge, and a greater appreciation for the amazing service hospice provides.   
So, you've heard all about our journey from me but what did my colleagues make of it?  
"The highlight for me was, and always is, the reaction displayed by hospice professionals when they see the awesome publications we can create for them, and when they realise it is not going to cost them a dime! The only reason a hospice doesn't have our books is that they don't know about us - Hint for gatekeepers; let us in - we will boost your hospice and we guarantee to save your Hospice agency money."  Tony Smith, Partnership Manager.  
"My personal highlight was spending time with professionals who share and surpass my passion for health and hospice care. I experienced the wonderful, compassionate comfort found in hospice care and I wanted to tell everyone who would listen. Luckily, we have developed a way to do that, at no cost to the hospice and/or patients."  Joe Magowan, Business Development Manager.