Partner Plus Media 'Pays for a Day' at Children's Hospice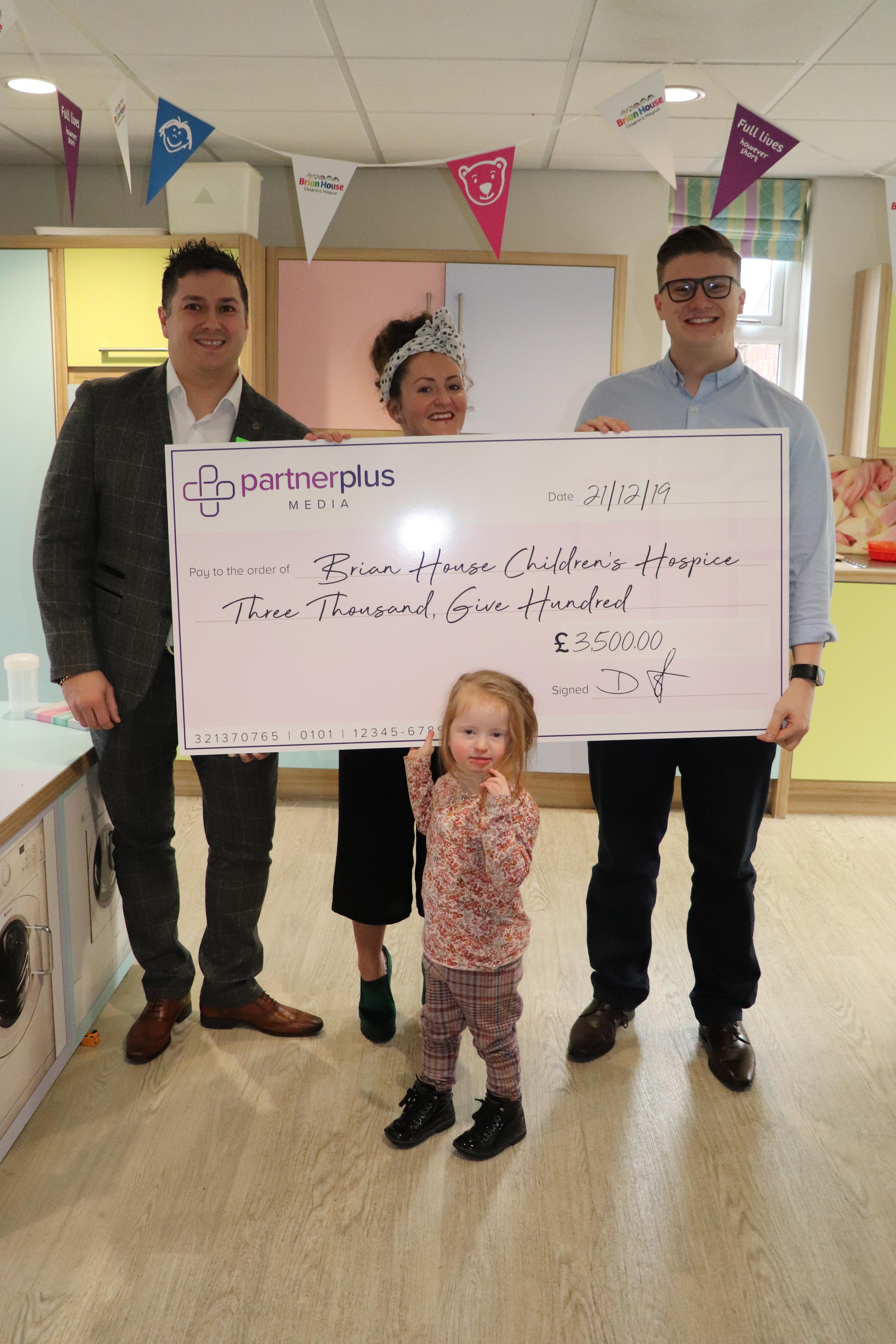 Staff at Partner Plus Media's UK office pull together to raise a huge total which has been donated to Brian House Children's Hospice.
A successful month of fundraising saw employees embrace a range of charitable-giving activities in order to reach an incredible total of £3,500. 
The sense of achievement was intensified by discovering that this sum is enough to cover the care costs of children with life-limiting conditions for a full day.
With festive spirits running high in December, the UK team began by hosting their own Christmas Jumper Day whereby staff donated generously in order to turn up to work in the most decorative jumpers they could find.
Our General Manager, Lynda Gough, summoned her baking talents to boost the day's total in the form of cherry cheesecake and chocolate brownies.
The charity sum rocketed with the news that our Managing Director, Darren Street, had purchased an extraordinary prize for each day of Christmas to be given away as part of our 12 Days of Christmas Raffle. Raffle tickets were priced at £20, and staff across all departments dug deep knowing that the money would be donated to Brian House.
Brian House Children's Hospice is a charity which cares for children with very complex needs and life-limiting conditions, and supports their families at every step of their difficult and often unpredictable journey.
With Brian House and Partner Plus Media's UK office both being situated in the North West, Kyle Bonar and Dan Moore were able to hand deliver the cheque for £3,500 which came as a complete shock to Brian House staff.
The children and their nurses made Kyle and Dan feel extremely welcome, and they were given a tour of the wonderful care facilities. It was eye opening to discover that a facility such as this requires an annual fundraising sum in the region of £5.1 million to provide the service it does, and therefore relies on the generosity of individuals and businesses to help reach this target every year.
Kyle and Dan returned with plenty of ideas of how Partner Plus can continue to support hospice projects throughout 2020!